Jesus came yesterday! A day earlier than expected!
That's right…Jesus came in the mail.
When Tim came home from work with this package from Amazon, I got so excited. I grabbed the delivery, and started gallivanting around room-to-room telling each family member, "Jesus came today in the mail!" Of course, they looked at me like I'd lost my mind.
While uncovering the various nativity scenes I decorate with during this Christmas season, I noticed that I have held on to a few way too long. Some were missing a king or two, others had Joseph on a business trip, and Mary must have needed a vacation. (Did I mention that I love nativity scenes? Well…yep, I do.)
It felt sacrilegious discarding the nativity scenes who were missing folks, so until I decide what to do with them, they are stashed away in one container. (Any ideas?) Until that decision is made, I searched, clicked, and ordered a new and complete nativity scene.
Recently, I wrote about how we (I) put Jesus in a Box when we try to play boss of our lives, when God really is.
This time, when Jesus came "in the mail", and I was all giddy, it made me think about how HE IS COMING again one day. We do not know the time or day or year, but I can't help but feel thrilled knowing that it will be soon!
"No one knows when that day or time will be. The Son and the angels in heaven don't know when it will be. Only the Father knows." Matthew 24:36
How do I know He's coming back? Because He said so!
"After I go and prepare a place for you, I will come back. Then I will take you with me, so that you can be where I am." John 14:3
Ahhh, True Love!
Are you ready?
If you need to do some "searching", don't delay. Let me make this easy for you…He is the only way to get to heaven.
Jesus answered, "I am the way, the truth, and the life. The only way to the Father is through me." John 14:6
Get excited about Jesus' coming.
Have a beautiful day.
Blessings to you and yours,
Stephanie
To you this may just look like a Christmas swag, adorned with cotton charm and a wired burgundy velvet bow, but to me it's so much more.
I only have a couple of these bows remaining, and I will always treasure them.
As I am restructuring, the crushed by being stored, velvet bow, I am reminiscent of the hands who originally touch this material to create a beautiful holiday display. My late mother-in-love, Jany, always had a beautifully decorated home, and LOVED Christmas. This bow, one of two remaining assembled by her, conveys heart-warming memories.
This will be the fourth Christmas that Jany has celebrated Jesus' birthday with Him in Heaven. There's not a day that goes by that I'm not reminded of her somehow.
If (when) you find your heart longing for your loved one who has passed, hold on to the memories and smile because you have them.
I thank God every time I remember you. Philippians 1:3
Have a blessed day!
Much love to you and yours,
Stephanie
I had to share.
This morning, while scrolling social media, I saw a friend had shared a post, from her best friend, asking for prayer for the family. Why? (My heart breaks all over again just typing this…) her BFF's two great nephews were killed in a head-on car crash this weekend. These two brothers both attend Georgia Southern University. These parents lost BOTH of their boys after (I'm imagining) a fun-filled family Thanksgiving break. (Click here for a news article.)
When I picked my youngest up from school today, with tears in my eyes and a lump in my throat, I informed him about the accident, and reminded him to live each day and love your loved ones.
I was curious as to how many vehicle accidents occurred in my state this year. According to the Florida Department of Highway Safety and Motor Vehicles over 2,300 traffic fatalities have taken place 2017.
Friends, I pray that you will live each day to its fullest and love big time.
Here's a few thoughts:
Tell your family you love them. Daily.
Know to know Jesus as your personal Savior. He is the ONLY way to get to heaven. Ask Him into your life, and allow Him to be the Boss of your life.
Buckle up! (Front and back seat)
Forgive others and forgive yourself.
Rid yourself of bitterness.
Laugh often.
Remember, especially young drivers, you are not invincible. Ease up on the gas. Use your mirrors. You don't need to show your friends how "cool" you are by driving like a manic. I'm sure they and their family) will appreciate you driving safely.
Don't drink and drive.
Don't drive with you are emotional.
Communicate with your loved ones (not just through a text).
Hug your loved ones.
Be alert to your surroundings.
Pray before you go.
NO texting while driving, or checking your phone.  Pull over (in a safe area) if you need to.
Be a wise driver, not a "wise guy".
I'm sure you could add a few more thoughts to this list. I have friends who have lost their children or family members to car accidents. I'd love for you to share your insight.
I've often heard young drivers confidently comment, "I'm not going to get into an accident." My reply, "DUH! That's why they call it an accident and not an 'on purpose'"
It doesn't matter the age or stage you are in, or how a death occurs…your heart will ache, and you will always remember. Hold onto Jesus through it all. Stay in His word. He will see you through it.
Be safe, y'all.
You don't know what will happen tomorrow. Your life is like a fog. You can see it for a short time, but then it goes away.James 4:14
Teach us to realize the brevity of life, so that we may grow in wisdom. Psalm 90:12
So be very careful how you live. Live wisely, not like fools. 16 I mean that you should use every opportunity you have for doing good, because these are evil times. 17 So don't be foolish with your lives, but learn what the Lord wants you to do. Ephesians 5:15-17 
Much love to you and yours,
Stephanie
I'll never forget the feeling that engulfed me when I saw porn.
When I was nineteen years young, I was asked to babysit two young boys. Their mother was out of town, and the dad had work to do. I knew the family quite well, and had no issues with keeping an eye on the boys.
After a successful day of babysitting, the boys' father came home. He made sure his sons were playing in another room, when he said, "Come here, Stephanie, I have something I want you to see."
Unaware of what I was about to view, he patted the seat beside him for me to sit there, then proceeded to turn on the television. My naïve self, while sitting beside a man whom I called my friend, so innocently began to watch a show. It didn't take long before this "show" turned into a pornographic video we were watching.
Only a few minutes passed, and my mind was still trying to process what was taking place, when I felt his hand attempt to rest on my knee. I look at him with befuddlement, removed his hand, and nervously uttered the words, "I need to go."
An excruciating and nauseating feeling overwhelmed me as I was amid, and for quite some time afterwards, processing what took place.
Today, my pastor ended a sermon series titled "Finally Free". This morning's sermon was specifically regarding "Freed by Self-Control", with an emphasis on breaking free from addiction. The concepts taught could apply to any type of addiction, yet today's sermon prominence focused on the addiction of pornography.
Boy oh boy did Pastor Brian Stowe bring it on! His passion, concern, and immediate desire to help others to be free the addiction (or even the slight dabbling in) was powerful.
I want to share some of the key points from Pastor Brian's sermon. PLEASE read, be prayerful, and share with others who may need this information:
God is with you in temptation. Temptation will happen in your daily routine.
Have safeguards in your life. Get accountability. Get filters for your electronic devices. Put up safeguards in your dealing with other of the opposite sex.
Regardless of the addiction, the call is for every believer to exhibit self-control, which can only happen through a dependent walk with Christ.
An appeal to every married person. Flirting with temptation is never the answer to "spicing" up your marriage. Introducing pornography is NEVER the answer to having a better marriage or intimacy. Do not allow pornography in to your life or into your home or into your bedroom. It will never satisfy or be satisfied. It's just like sin (because it is) – it will take more of you and damage more of you than you ever imagined!
What can you do?

Guys: love your wife, apologize to her, compliment her, listen to her, send her flowers, talk about life (share your heart…she can tell what you did that day by looking at the calendar, so really talk), watch what she watches (even the Hallmark channel where we can all predict the ending), do what she wants, think about her, value her, flirt with her, sacrifice for her, date her, take her calls, and so many more ideas.
Girls: love your man, cherish him, apologize, hold his hand, kiss on lips, want to be around him, talk about you two (not the kids all the time), guard and protect the trust at all cost, affirm him, respect him, flirt with him, and respond to him, and again…so many more ideas.
And I'll add to this list…PRAY WITH AND FOR EACH OTHER. I'm sure that was obvious, but still a reminder. Might I add…fast and pray on your knees.

God is with you while you wait. God is doing more in your waiting period than you realize. Don't get bitter. God can use you in your wait time. What you learn in your waiting time will affect the rest of your life.
What now?

Crucify the flesh (Galatians 5:24) DAILY.
Seek godly accountability.

Seek help. Counseling website: https://fightthenewdrug.org
Which describes you the best: the works of the flesh or the fruit of the spirit?
Pornography has been a thorn-in-the-the-side-of-marriages, and other relationships, for years. I read the five years ago, the porn business grossed over $13 BILLION. Yes, billion!
I know of dear ones who have battled, or are currently struggling, with pornography in their lives. Relationships can be torn apart or through the recovery process, made right.
Remember the movie Fireproof? Well, if you haven't seen it, or even need a refresher, this movie depicts how a husband's addiction to porn was dismantling his marriage. Yet, reminds us how we serve a mighty God, and through many trials while still trying to hold on to His truth, marriage can be saved. AMEN!
I want to encourage you to:
Watch my pastor's sermon, once it is available. Click on the following link and view the November 26, 2017 sermon. https://www.fbcpc.com/media
Reread those "things to do for guys and girls" an apply them to your life. Even if you don't have a porn addiction, these are great techniques to "spice up" your marriage.
Fight for your marriage!
Pray with one another
Get godly help.
Don't lose hope. God is good.
Repent!
Blessings to you and yours,
Stephanie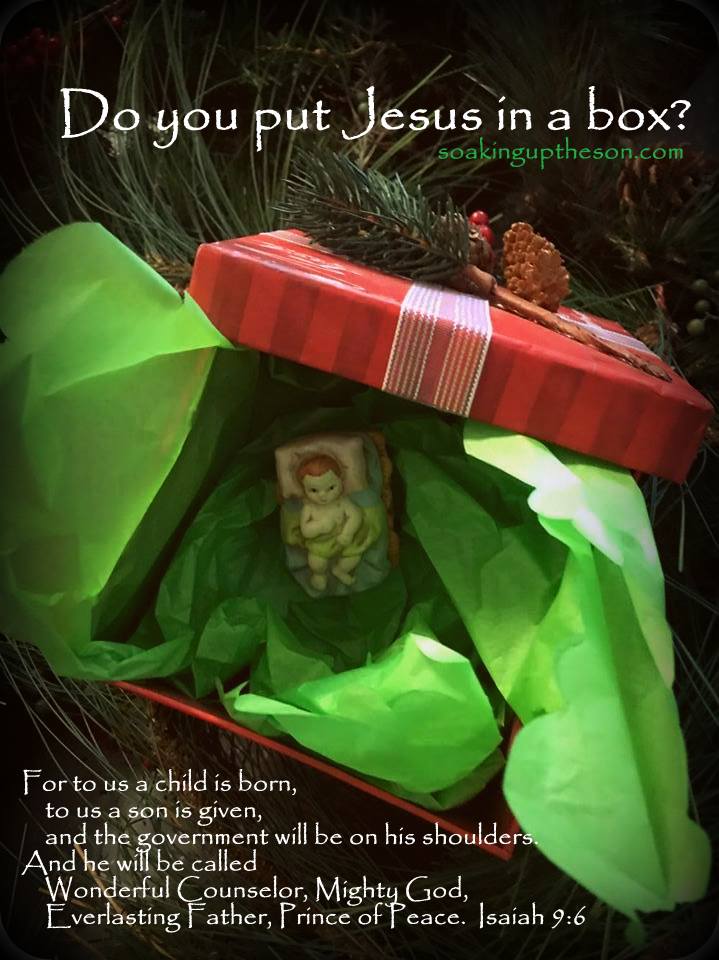 I waited!
It took will power and patience to hold down the excitement, but I did it, and the time is FINALLY here!
For months, while gallivanting through stores, Christmas was in the air…or at least on the shelves. When did Christmas decorations become the items to purchase as early as September? Seriously!
Seeing the beautiful decorations would get me giddy, then I would have a perplexed look and think, "Wait, it's not even Halloween…or Thanksgiving."
Recently, I saw someone post a slogan that said, "No, No, No, to Ho Ho Ho". I had to laugh and agree with the catchy phrase.
Oh, believe me, I was ready! I LOVE Christmas time and all that it entails. The week of Thanksgiving, the anticipation was building within me. My mind would curiously ponder, "What decorations do I even have?"
You see, last year I was totally out of it, thanks to loopy medication due to a broken tibia, fibula, and dislocated ankle, and surgery to give me a steel plate and six sturdy screws. So, my curious mind had complete reason to ponder, since I wasn't even the one displaying Christmas in my home last year. Thanks to a lifelong family friend, whom was my late mother-in-law's bestie, and talented to boot, Mrs. Karen decorated my tree last year.
Also, since we had just moved into our new and renovated home, I had eliminated the amount of décor from our previous home. This year, I had no awareness as to what décor has been lingering in the attic since the move.
A few days before Thanksgiving, my guys helped me bring all the Christmas storage boxes down from the attic. Don't worry, I remained patient and strong and had them put everything in the garage for me to unveil. No Christmas décor manifested the walls or doors or shelves inside my home until Thanksgiving was officially over. (Not that there's anything wrong with it.) It was difficult and tempting, but I was determined to stick to the "No, No, No, to Ho Ho Ho" policy until we gobbled down our turkey and stuffing.
That's when I saw Jesus in a box.
I love nativity scenes! That's what…He is…Christmas is all about anyhow.
Each year that I open a nativity box, I contemplate how many times I'VE (and STILL do) put Jesus in a box.
Natalie Grant beautifully sings her song, King of the World. The very first verse has a phrase which often gets me to the core. The words, and her voice, are graceful and powerful. Read for yourself:
I tried to fit you in the walls inside my mind I
try to keep you safely in between the lines
I try to put you in the box that I've designed
I try to pull you down so we are eye to eye
When did I forget that you've always been the king of the world?
I try to take life back right out of the hands of the king of the world
How could I make you so small
When you're the one who holds it all
When did I forget that you've always been the king of the world
(Click here to view Natalie sing "King of the World" in this breathtaking official acoustic video.)
I want to challenge you:
Are you what some may call a "Holiday Christian/Churchgoer"? Why just fellowship with other Christians and receive the teaching of His word just a few times a year? Make a commitment to attend church regularly. Grow closer to Christ with others.
Are you like me and have your own ping pong match with God when it comes to giving Him complete control of EVERY situation in life? Let's remember…He IS the King of the world. Don't do as the lyrics say and try to pull Him down so we are eye to eye with God. He isn't minor, He is majorly mighty!
As you take baby Jesus out of the box this Christmas season, take Him out of the box in your mind and allow Him to freely be the Boss of your life.
Happy Christmas decorating!
Many blessings and much love to you and yours,
Stephanie
At seven o'clock in the morning, I noticed I had a message. The message was informing me that our cows were out in the neighbor's yard.
I told Tim to go around the backside of the cows, and round them up, while I went to the shared gate to call "Hey cows" and entice them with apples. Well…my citified/becoming countrified husband ended up riding up, in The Beast, behind me, therefore instigating the cows to halt approaching me, and retreating into the "hitchhiker weeds" and pines on the other side of the fence. Oh, Tim. (Lesson learned by all.)
Finally, Tim withdrew, and I walked around the backside of the two cows, herding them back onto our side of the fence.
Tim went to the local feed store to purchase barbed wire, and went inside the house.
While he was gone, those crazy cows escorted themselves back into those weeds.
This time, we had a system. Success, again, for retrieving the cows.
I'm quite sure this fence needs to be completely repaired soon, but in the meantime, Tim and I repaired the weak sections of the fence with our newly purchased barbed wire.
When our task was complete, and we left the pasture, those silly cows were walking the fence scoping out our repair job. They appeared to be trying to find another weakness in the fence so that they could, God only knows why, revisit new ground.
This whole scenario reminded me of how sneaky Satan is doing the same thing with us.
He is in search of our weakness, so that he can cause us to stumble. Even more so…he wants to steal, kill, and destroy us. (John 10:10)
This is nothing new. Since the VERY beginning of time, Satan has tried to, and often succeeded in, getting his claws around us.
Now the serpent was more crafty than any of the wild animals the Lord God had made. He said to the woman, "Did God really say, 'You must not eat from any tree in the garden'?" Genesis 3:1
Friend, be on guard. Don't permit the devil to "hitchhike" his way onto you.  Ask God to reveal any weakness within you, and allow Him to repair them. He will make you strong and secure.
Sure, even when you (a Christian) are secure in the hand of God, Satan is always lurking for that dangling toe or hand to grab. But, you need to remember…NO ONE will snatch you from His hand. Stay close to God.
I give them eternal life, and they shall never perish; no one will snatch them out of my hand. John 10:28
Blessings to you and yours,
Stephanie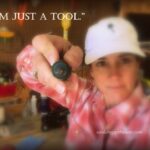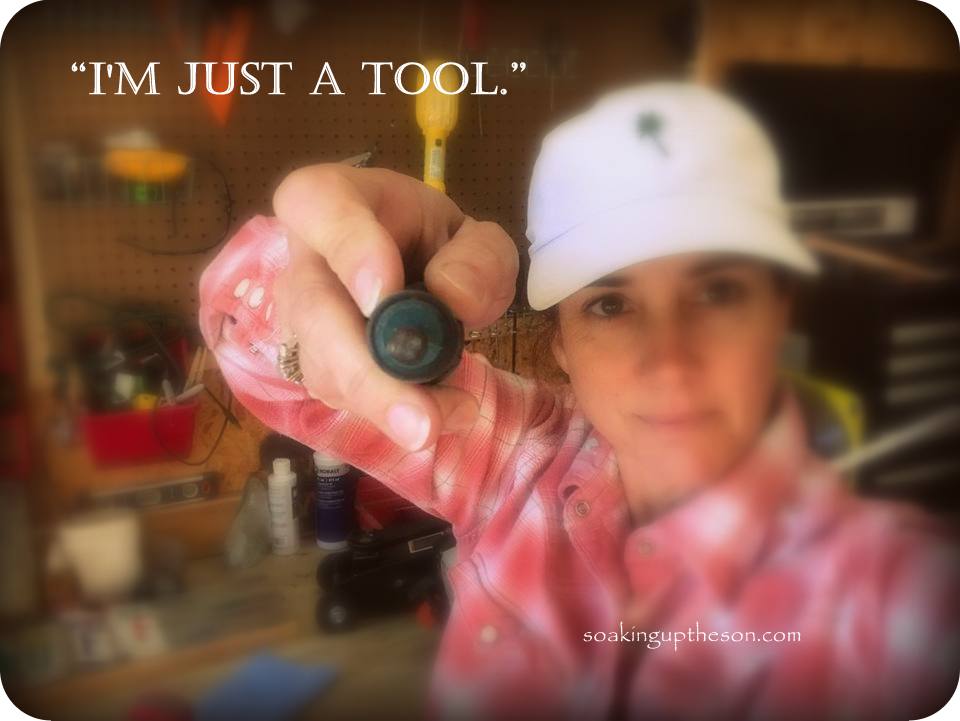 "I'm just a tool."
Jesus was a carpenter while He was a young man on earth. According to the dictionary, a carpenter is a worker who builds or repairs structures or their parts. How fitting for the occupation of Christ. He built and repaired wooden structures in His early years, and Christ still does that with us today.
Yep, we are all broken. Christ can repair us, make us new, and build us to be a strong assembly for Him.
In a carpenter's toolbox, there are various tools to be used for specific tasks. Just like each tool in the toolbox has a precise duty, so do we.
The other day, while refinishing an old church pew, I noticed the screws that were attaching the hymnal shelf had a square opening. Not your ordinary Phillips or Flathead screw driver was needed for this mission, but a Square-Recess driver.
I glanced at it and thought to myself, "We probably don't have one of those. I don't think I've ever used that type of screwdriver in my lifetime."
Low and behold, hanging ever so neatly on my husband's tool rack was the exact type of screwdriver needed to accomplish this task.
God has given each of us spiritual gifts. Some folks may have talents that are quite visible and often used or seen by others, while many others have God-given-gifts that are subtle.
Whatever special talent God has bestowed upon you, use it. Use it to the glory of God. Appreciate the talents of others, and embrace yours.
Each of you should use whatever gift you have received to serve others, as faithful stewards of God's grace in its various forms. 1 Peter 4:10
"I'm just a tool."
Those are words that I've uttered numerous times when others have complimented me on an ability that God has given to me. It is not me who creates the journal entries, through everyday circumstances. It is God within me. (Thank y'all for your precious comments, and to God be all the glory. I'm truly humbled. I'm definitely not an eloquent writer, I just type what God lays upon my heart.)
You are a tool! Allow God to use you for His glory.
When the Sabbath came, He began to teach in the synagogue, and many who heard him were amazed. "Where did this man get these things?" they asked. "What's this wisdom that has been given him? What are these remarkable miracles he is performing? 3 Isn't this the carpenter? Isn't this Mary's son and the brother of James, Joseph, Judas and Simon? Aren't his sisters here with us?" Mark 6:2-3 (Jesus' hometown folks knew of Him, but didn't really know Him. I pray that you will truly know Christ and love Him with all your heart, soul, mind, and strength.)
For just as each of us has one body with many members, and these members do not all have the same function, 5 so in Christ we, though many, form one body, and each member belongs to all the others. 6 We have different gifts, according to the grace given to each of us. If your gift is prophesying, then prophesy in accordance with your faith; 7 if it is serving, then serve; if it is teaching, then teach; 8 if it is to encourage, then give encouragement; if it is giving, then give generously; if it is to lead, do it diligently; if it is to show mercy, do it cheerfully.  Romans 12:4-8
As I was about to type this journal entry, my dear lifelong school friend, Constance Ingram Mitchell, posted these words:
"Choose to be a tool for God representing what is good. Choose NOT to be a toy for the enemy representing evil and negativity."
How fitting! Be a tool, not a toy. I love it!
Have a blessed day!
Love to you and yours,
Stephanie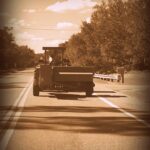 'Tis the season!
Some may say…"Tis the season:
To be jolly
To be thankful
For football
For shopping
For eating lots of turkey
For Jesus
For trying to tolerate family members during the holiday times
To put up Christmas décor before we even celebrate Thanksgiving
To be patient
Ahhh, patience. That is exactly what God put on my heart to write about today, when suddenly, there was the perfect illustration, right in front of me, on this topic.
I'm driving home. I see the car ahead of me put their brake lights on. Then, there's a tractor, sluggishly journeying down the road. I didn't get upset, roll my eyes, take a deep breath, or say anything I shouldn't say. Nope, I just smiled, laughed, and subconsciously said, "Good one, God."
God was clear in His instruction when he had Paul pen the words:
I beg you to live the way God's people should live, because He chose you to be His. 2 Always be humble and gentle. Be patient and accept each other with love.  Ephesians 4:1-2
The adjectives humble, kind, and loving, have been pressing on my heart this season.
Recently, I chose the shortest, non-ten-items-or-less line at the grocery store. It may have been the shortest line, but it was the longest wait.
There were two elderly ladies checking out. The sweet (I could just tell she was sweet by her countenance) lady paying was having trouble finding the correct change and paying for her groceries. The second seasoned citizen was holding the two small bags of purchased items. The cashier and bagboy would glance my way as if to say, "Sorry". I was in a bit of a hurry, but I was reminded that could be me one day. I will be that dainty, grey-haired lady, who may be holding up the line at the store. When they ladies left, the cashier calmly said, "Sorry. Thank you for waiting." I smiled and said, "No worries. That may be me one day."
Thinking of those "seasoned citizens", I have friends who are currently tenderly reversing the parent/child responsibility. My heart aches for them, and am humbled by their enduring actions. I'm reminded that I'm blessed to have my parents around, and there may come a time when I find myself in the comparable situation as my friends.
It is often difficult to display patience with those we love. They love us! Right? They will forgive us! Right? Hopefully for you as for me, these questions are true, yet…that is not a reason to demonstrate a lack of patience with the ones who love us most, especially our parents. After all they've done for us…I'm quite sure my mom and dad (and many other loved ones) had to be tremendously patient with me.
I am NOT going to pray for patience for you. We all know the result of that. But I do want to challenge you to demonstrate the godly character of having patience this season. I've heard that it takes six weeks to be consistent in doing something to make it a habit. Well guess what? There are six weeks left in the year! Why not begin today with being patient so you can start the new year off with a great habit, and a godly characteristic that will carry you far in life.
I type the word "patience" in the search section of this website. Sixty-nine! 69 posts regarding patience! I would LOVE to know which is your favorite, or top three. Maybe I should reread, edit, and compile these into a book. Hmmmm. What do you think? Please click on the following link for ALL 69! I even laughed out loud on a few and recalled some good and trying times. Confession…I haven't read ALL 69 yet. Patience. http://soakinguptheson.com/?s=patience&search=Search
I do pray for many blessings to you and yours, and for you to recognize those blessings, even the ones in disguise.
Love to all,
Stephanie
I'm speaking to a group of students this week, for Great America Teach-In, about traveling and diversity/commonalities among all people. While going through photos of places we've visited around the world, I couldn't help but smile and appreciate all the experiences God has truly blessed me and my family with.
Photos depicted scenes of us living life to its fullest. For example:
Bungy jumping in New Zealand, with arms open wide and taking in the magnificent beauty surrounding me (above and below).
Walking on a swing bridge beside Victoria Falls in southern Africa on the Zambezi River at the border of Zambia and Zimbabwe. Speaking of the Zambezi River, we had an interesting hike up and down mountains to enjoy white-water rafting down the river, where Tim jumped in to enjoy the cool waters. (Watch out for the crocs!)
Riding on a camel's back, while being in awe of the over 4,500 years old The Great Pyramid of Giza.
Paragliding off a mountain, and landing on the beach of Rio de Janeiro, Brazil.
Waking early in the morning to charter a boat to cage dive with great white sharks off Seal Island in Cape Town, South Africa. (Visibility was slim to nothing, so I opted to wait until another trip with impeccable visibility…maybe next summer. Our friends Dan and Paul did get in the cage. That was a priceless memory!)
Swimming with whale sharks off the coast of Mexico. Graceful creatures!
Freezing our tushes off skiing and tubing down snowy mountains.
Do you see what I mean about living?!! Living life to its FULLEST!   Yet…all these incredible trips-of-a-lifetime didn't teach me how to truly live.
Well, okay…I totally have learned to take advantage of opportunities in life and be brave, and traveling has definitely taught me to appreciate others and their cultures, and has been a very educational experience too. Yet, again…truly living life to its fullest comes from another source.
In Psalm 119:143-144 we learn what David knows…that when we delight in the Lord, and strive to know Him and His word more and more, that is when we LIVE.
Even though troubles came down on me hard, your commands always gave me delight. The way you tell me to live is always right; help me understand it so I can live to the fullest. (MSG)
Trouble and distress have come upon me, but your commands give me delight.  Your statutes are always righteous; give me understanding that I may live. (NIV)
When I seek to know Christ more through pining the pages of the bible, my heart overflows with joy. This joy penetrates my marrow, and radiates through my words and actions.
The lessons learned, and stories told, in the bible take me further than any plane or boat could carry me.
Paul said it perfectly in Philippians 1:21, "For to me, living means living for Christ, and dying is even better." Do you see that? Living means living for Christ!
I want to encourage you to truly live life to its fullest…abundantly with and through Christ! When we strive to become more knowledgeable, and to put a smile on God's face each day, well…that my friend…will give you a purpose for living and abundant joy.
Life is short.  Get busy living!  Live for God.
Blessings to you and yours,
Stephanie
For further reading on Philippians 1:21, please visit: https://www.gotquestions.org/to-live-is-Christ.html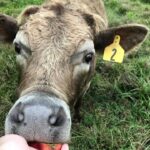 We have two cows in our pasture. When we first received them, they were skittish of anyone who entered, and you could tell they were cautiously sizing any intruder up.
Over time, I would go out and feed the cows. On my way to greet them, I'd holler out, "Hey, cows". (I know…such original names.) The relationship grew over time. The cows would begin to associate me with food. Now when I walk out to the pasture, sometimes before I even call out, "Heeyy, coowws", they see me and come running.
Today, I was out in the barn. I guess one of the cattle noticed me working in there, came to the gate, and began mooing in my direction. I had to laugh. No "hey, cows" was mentioned, now they just want to spend time with me. Okay, okay…they really want me to feed them, but I like thinking that they just want me to talk to them.
This scenario reminds me of "The Good Shepherd and His sheep" parable.
In Isaiah 40:11, we read the illustration of the foreshadowing of Jesus Christ. "He tends his flock like a shepherd: He gathers the lambs in his arms and carries them close to his heart; He gently leads those that have young."
That's exactly what Christ does, He tends to us, gathers us in His arms, holds us close to His heart, and gently leads us in the right direction.
In John 10, we hear the parable of The Good Shepherd and His Sheep. Verse 11 Jesus tells us that He is the Good Shepherd, and that He gives His life for us, His sheep. He did! He died for you and me! In verse 14, Christ confirms that He cares for us.
"I am the good shepherd, and the good shepherd gives his life for the sheep… I am the shepherd who cares for the sheep. I know my sheep just as the Father knows me. And my sheep know me just as I know the Father. I give my life for these sheep."John 10:11, 14-15
Much like those cows began associating me with food, and we've now built a relationship with one another, that's how your relationship with Christ can be. Jesus is The Bread of Life. We need Him daily. The more time you spend feeding on His Word, the more intimate your relationship becomes, and you discover that you desire to spend time with Him. You'll not wait on Him to call out your name, you'll go running to Him and moo, I mean call out, to Him.
Are you lost or wondering? Remember Luke 15:3-7:
Then Jesus told them this story: 4 "Suppose one of you has 100 sheep, but one of them gets lost. What will you do? You will leave the other 99 sheep there in the field and go out and look for the lost sheep. You will continue to search for it until you find it. 5 And when you find it, you will be very happy. You will carry it 6 home, go to your friends and neighbors and say to them, 'Be happy with me because I found my lost sheep!' 7 In the same way, I tell you, heaven is a happy place when one sinner decides to change. There is more joy for that one sinner than for 99 good people who don't need to change.
Jesus wants you! You are His delight! Come back to Him.
I pray that you will work on building your relationship with Jesus.
Blessings to you and yours,
Stephanie