I'm speaking to a group of students this week, for Great America Teach-In, about traveling and diversity/commonalities among all people. While going through photos of places we've visited around the world, I couldn't help but smile and appreciate all the experiences God has truly blessed me and my family with.
Photos depicted scenes of us living life to its fullest. For example:
Bungy jumping in New Zealand, with arms open wide and taking in the magnificent beauty surrounding me (above and below).
Walking on a swing bridge beside Victoria Falls in southern Africa on the Zambezi River at the border of Zambia and Zimbabwe. Speaking of the Zambezi River, we had an interesting hike up and down mountains to enjoy white-water rafting down the river, where Tim jumped in to enjoy the cool waters. (Watch out for the crocs!)
Riding on a camel's back, while being in awe of the over 4,500 years old The Great Pyramid of Giza.
Paragliding off a mountain, and landing on the beach of Rio de Janeiro, Brazil.
Waking early in the morning to charter a boat to cage dive with great white sharks off Seal Island in Cape Town, South Africa. (Visibility was slim to nothing, so I opted to wait until another trip with impeccable visibility…maybe next summer. Our friends Dan and Paul did get in the cage. That was a priceless memory!)
Swimming with whale sharks off the coast of Mexico. Graceful creatures!
Freezing our tushes off skiing and tubing down snowy mountains.
Do you see what I mean about living?!! Living life to its FULLEST!   Yet…all these incredible trips-of-a-lifetime didn't teach me how to truly live.
Well, okay…I totally have learned to take advantage of opportunities in life and be brave, and traveling has definitely taught me to appreciate others and their cultures, and has been a very educational experience too. Yet, again…truly living life to its fullest comes from another source.
In Psalm 119:143-144 we learn what David knows…that when we delight in the Lord, and strive to know Him and His word more and more, that is when we LIVE.
Even though troubles came down on me hard, your commands always gave me delight. The way you tell me to live is always right; help me understand it so I can live to the fullest. (MSG)
Trouble and distress have come upon me, but your commands give me delight.  Your statutes are always righteous; give me understanding that I may live. (NIV)
When I seek to know Christ more through pining the pages of the bible, my heart overflows with joy. This joy penetrates my marrow, and radiates through my words and actions.
The lessons learned, and stories told, in the bible take me further than any plane or boat could carry me.
Paul said it perfectly in Philippians 1:21, "For to me, living means living for Christ, and dying is even better." Do you see that? Living means living for Christ!
I want to encourage you to truly live life to its fullest…abundantly with and through Christ! When we strive to become more knowledgeable, and to put a smile on God's face each day, well…that my friend…will give you a purpose for living and abundant joy.
Life is short.  Get busy living!  Live for God.
Blessings to you and yours,
Stephanie
For further reading on Philippians 1:21, please visit: https://www.gotquestions.org/to-live-is-Christ.html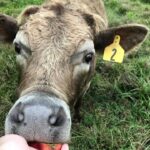 We have two cows in our pasture. When we first received them, they were skittish of anyone who entered, and you could tell they were cautiously sizing any intruder up.
Over time, I would go out and feed the cows. On my way to greet them, I'd holler out, "Hey, cows". (I know…such original names.) The relationship grew over time. The cows would begin to associate me with food. Now when I walk out to the pasture, sometimes before I even call out, "Heeyy, coowws", they see me and come running.
Today, I was out in the barn. I guess one of the cattle noticed me working in there, came to the gate, and began mooing in my direction. I had to laugh. No "hey, cows" was mentioned, now they just want to spend time with me. Okay, okay…they really want me to feed them, but I like thinking that they just want me to talk to them.
This scenario reminds me of "The Good Shepherd and His sheep" parable.
In Isaiah 40:11, we read the illustration of the foreshadowing of Jesus Christ. "He tends his flock like a shepherd: He gathers the lambs in his arms and carries them close to his heart; He gently leads those that have young."
That's exactly what Christ does, He tends to us, gathers us in His arms, holds us close to His heart, and gently leads us in the right direction.
In John 10, we hear the parable of The Good Shepherd and His Sheep. Verse 11 Jesus tells us that He is the Good Shepherd, and that He gives His life for us, His sheep. He did! He died for you and me! In verse 14, Christ confirms that He cares for us.
"I am the good shepherd, and the good shepherd gives his life for the sheep… I am the shepherd who cares for the sheep. I know my sheep just as the Father knows me. And my sheep know me just as I know the Father. I give my life for these sheep."John 10:11, 14-15
Much like those cows began associating me with food, and we've now built a relationship with one another, that's how your relationship with Christ can be. Jesus is The Bread of Life. We need Him daily. The more time you spend feeding on His Word, the more intimate your relationship becomes, and you discover that you desire to spend time with Him. You'll not wait on Him to call out your name, you'll go running to Him and moo, I mean call out, to Him.
Are you lost or wondering? Remember Luke 15:3-7:
Then Jesus told them this story: 4 "Suppose one of you has 100 sheep, but one of them gets lost. What will you do? You will leave the other 99 sheep there in the field and go out and look for the lost sheep. You will continue to search for it until you find it. 5 And when you find it, you will be very happy. You will carry it 6 home, go to your friends and neighbors and say to them, 'Be happy with me because I found my lost sheep!' 7 In the same way, I tell you, heaven is a happy place when one sinner decides to change. There is more joy for that one sinner than for 99 good people who don't need to change.
Jesus wants you! You are His delight! Come back to Him.
I pray that you will work on building your relationship with Jesus.
Blessings to you and yours,
Stephanie
Relationships are like weather we had in Florida the last week of October 2017.
In my hometown, we went from the lowest temperatures being in the low 40s to 60s, to the highs ranging from the 60s to 80s. One night you would have a fire blazing in the firepit or fireplace, to wearing shorts and hydrating yourself throughout the day due to heat. I'm not complaining…I love Florida…yet I would appreciate some Fall weather to linger around for the month of November. (I can't wait for next week…highs in the 70s, lows in the 50s…perfect!)
No matter the stage/temperature of a relationship you are in, there needs to be godly characteristics exhibit.
No matter the sort of relationship; family, friend, co-worker, or even complete strangers, you may be having an issue in, reveal godly characteristics. Seek God's guidance.
I currently have three relationships in the forefront of my mind that I'm being specific in my prayer life about. God and I chat about the relationship and the other person. Yet…when He whispered to me, "Pray for YOUR attitude towards this person", boy-oh-boy have I noticed a peace and a characteristic of grace being portrayed on my end.
According to the Merriam-Webster Dictionary, grace has several meanings. Three of which are:
a virtue coming from God
a special favor
a charming or attractive trait or characteristic
Richard Blackaby wrote a book titled, Putting a Face on Grace: Living a Life Worth Passing On. I highly recommend you reading it. While reading this book, several instances would come to mind helping me relate to what Blackaby was sharing at various times. He referenced two types of grace; Pseudo grace and Genuine grace. What's the difference? Read this exert from his book:
Pseudo grace avoids dealing with sin and instead focuses on being "loving." But showing genuine grace never involves condoning sin. Grace never compromises truth or righteousness. Jesus forgave the woman caught in adultery, but He also commanded her to "sin no more" (John 8:11). Jesus had lunch with the most notorious sinner in Jericho, but right after dessert, Zacchaeus was making amends for his sins by repaying fourfold all those he had wronged (Luke 19:1-10). Genuine grace always draws people towards Christ and His righteousness. Pseudo grace tolerates sin and muzzles those who would speak against it. A loving, graceful response to sin sometimes means caring enough to say the hard thing that may help people understand the consequences of their sin. (Proverbs 27:5-6)
I'm am trying to master genuine grace to others in my life. I know I sure need to be given grace by others, often. I must confess that pseudo grace may be the one being given in one of the relationships. It's not even that this person is doing anything wrong. They just sometimes annoy me. (Am I alone here, by being annoyed by someone, and they are truly a fine person?) Ugh. That's when I began praying for MY ATTITUDE.
God showered me with grace. He made my attitude joyful, tolerable towards others, and more loving.
For it is by grace you have been saved, through faith—and this is not from yourselves, it is the gift of God— not by works, so that no one can boast.  Ephesians 2:8-9
God saved me! He saved me by His grace. The "charming or attractive trait" isn't anything we are born with. It is given by God. Grace is a gift from God.
But by the grace of God I am what I am, and his grace to me was not without effect. No, I worked harder than all of them—yet not I, but the grace of God that was with me. 1 Corinthians 15:10
Paul clearly understood that it wasn't by his own doing that he became the man that he was…it was through the grace of God. And, that it wasn't himself who did so much good for others for the sake of Christ…it was God's grace within him.
Each believer has been saved by God's grace, and each new Christian has that same grace within them.
Yes, the same power and grace that was in Christ is now in you and me, when we accept Christ as the Boss of our life.
"I also pray that you will understand the incredible greatness of God's power for us who believe him. This is the same mighty power 20 that raised Christ from the dead and seated him in the place of honor at God's right hand in the heavenly realms." Ephesians 1:19-20
We just need to access the power and grace that is within us.
Do you need to show some grace to someone today?  I want to encourage you to pray. Pray for others, and especially pray for yourself and your attitude (like I had to do, and am still doing).
I pray that you will allow God's grace to wash over you, and in return may it overflow onto those around you.
Display grace, and watch God's abundant joy infiltrate your life.
Blessings to you and yours,
Stephanie
Let the Holiday Season begin!
My church has an event each year for the ladies called Holiday Indulgence. Kay Morris, our women's ministry leader, and her team create a festive atmosphere to start our holiday season off, with a reminder of the reason for the season…Jesus!
A silent auction, displaying themed decorated Christmas trees, acquired over $2,000 for the Lottie Moon Christmas Fund.
Hot tea, punch, and delicious treats are served to each table.
Music, prayer, a time of devotion, and a Christmas craft idea is demonstrated. Since this event began, fourteen years ago, Kay has given me the opportunity to be the emcee of the fashion show. She gives me the official title of "fashion coordinator". That cracks me up every time.
Giving me the microphone, to speak to over 400 women…you never know what will happen. One thing is for sure, a delightful and fun time is had by all.
In today's show, I referenced an article regarding dressing modest from gotquestions.org.:
Those whose hearts are inclined toward God will make every effort to dress modestly, decently, and appropriately. Those whose hearts are inclined toward self will dress in a manner designed to draw attention to themselves with little or no regard for the consequences to themselves or others…attitudes of the heart. If a woman's heart is inclined toward godliness, she will wear clothing that is neither provocative nor revealing in public, clothing that does not reflect negatively upon her personal testimony as a child of God.
As I was reading this article, I could hear ladies agreeing and even some "Aha-ing" the sentiments from the words.
Ladies, and men, we live in a world where "sex sells". Women often reveal WAY MORE than they need to, leaving very little to the imagination.
Yes, when you wear clothes exposing more body parts than needs to be shown, people (men AND women) look. So, don't be surprised, or even satisfied, when gawking takes place.
No, we are not to judge. Yet, please remember, when you choose to cloth yourself in attention-drawing clothing, that is exactly what you are doing…drawing attention, warranted or not. Sure, you may appreciate the attention in the moment, but thoughts and even temptations-in-the-mind, often occur in the viewers eyes.
1 Corinthians 6:19–20 reminds us, "Do you not know that your bodies are temples of the Holy Spirit, who is in you, whom you have received from God? You are not your own; you were bought at a price. Therefore, honor God with your bodies."
Your body is not your own. If you have invited Him to be The Boss of your life (and I pray that you have), you have the Holy Spirit with in. When you dress inappropriately, it's not just you that you're dressing, Christ is with and in you always.
Ladies:
Modest is hottest
Your body is not your own
Save the sexiness for your husband
"Likewise, also that women should adorn themselves in respectable apparel, with modesty and self-control…" 1 Timothy 2:9
"But let your adorning be the hidden person of the heart with the imperishable beauty of a gentle and quiet spirit, which in God's sight is very precious." 1 Peter 3:4 (I LOVE this verse. Read it again.)
Blessings to you and yours,
Stephanie
Please read the following journal entries on dressing modestly:  http://soakinguptheson.com/2012/10/25/how-you-dress-says-a-lot/ http://soakinguptheson.com/2012/10/16/whose-design-are-you-wearing/ http://soakinguptheson.com/2015/11/03/how-do-i-dress-today/

I remember, when I was growing up, my mom always produced the most creative and spooky "haunted house" at our elementary school's annual fall festival. Fake smoke sometimes filled the air, and caskets had volunteers being raised at the appropriate time to casually frighten the house visitors. (It was an elementary school, for goodness sake, so it was very tame.)
My dad was legendary for his creepy "mu-ha-ha" laugh, which he did every Halloween. When I was in the sixth grade, his haunting laugh was projected on the loud speaker for all to hear.
I believe my go-to Halloween costume was a witch. My grown children probably think I still am in that costume-witchy-mode at times.
Candy, candy, and more candy was stockpiled that we received from our neighbors. (Yes, back then…we ONLY went to our neighbor's home, which, BTW, we knew.) I don't recollect anyone skimping on the good sugary sweets either. (I think I'm craving chocolate as I type this.)
My older brothers would occasionally opt for tricking the passersby instead of receiving or giving treats. You know, the ole tie the fishing line to a purse trick, wait for a car to stop to retrieve it, and then slowly pull it off the side of the road prank? Yep, that was an often-repeated prank. (We lived out in the country. The roads weren't too busy.)
The older I got, the crazier and scarier Halloween became. There's some wacked-out-for-Halloween-peeps out there. Having people grab me or chase me with a chainsaw, isn't for me.
Something else that (or someone who) isn't for me…the scariest deceiver of all…Satan!
I may have dressed up like a witch when I was young, but Satan is the ultimate witch/vamp/enchanter/sorcerer. He has been known for his various disguises: angel of light, a serpent, a dragon, and a sheep…just to name a few.
However your feel about this time of year…I prefer to enjoy the fall weather, football, bonfires, and pumpkins…whether you participated in Trick-or-Treating as a kid or not…I think I turned out just fine, just beware of the one in costume who comes to steal, kill, and destroy…the devil.
He is real. He is scary. He has already been defeated! He was defeated when Jesus died for us on the cross. Hallelujah!
Be safe. Be kind. Be Christ's.
Many blessings to you and yours,
Stephanie
But I am not surprised! Even Satan disguises himself as an angel of light. 2 Corinthians 11:14
The serpent said to the woman… (The serpent was Satan.) Genesis 3:4
But I am afraid that, as the serpent deceived Eve by his craftiness, your minds will be led astray from the simplicity and purity of devotion of Christ. 2 Corinthians 11:3
And the great dragon was thrown down, the serpent of old who is called the devil and Satan, who deceives the whole world; he was thrown down to the earth, and his angels were thrown down with him. Revelation 12:9
Beware of false prophets, who come to you in sheep's clothing but inwardly are ravenous wolves. Matthew 7:15
The thief comes only to steal and kill and destroy; I have come that they may have life, and have it abundantly. John 10:10
 When children are at a very early age, they talk about what they want to be in life. Now, it seems that students practically must declare their line of study for college while in middle school. I remember changing my major three times my first year of college, and my daughter has followed in the same pursuit. (She is pretty stoked about her current, and possibly/hopefully/whatever-God-wants final, decision.)
Here I am, one-month shy of turning forty-nine, and I still don't know what I want to do with my life.
I took a personal leave from teaching middle-school math this year. Since the decision was made I either hear people say:
"Are you going back to teaching?"
"What are you going to do with yourself?"
"What do you do all day long?"
"What's your plan now?"
UGH!! I can say that I am in a season of "I. DON'T. KNOW." right now.
Am I alone in this season? Have you been there, done that?
My response to the above questions are:
"I'm taking it one year at a time, but probably not. I don't know."
"I want this to be a year of creativity. I may decorate, paint, write,…. I don't know."
"I manage our home, family, serve others, spend time with Jesus, feed the animals, pull weeds, watch reruns of The Gilmore Girls, I'm just busy. I don't know."
Fourth response is much like the second.
My man (Tim) is my biggest cheerleader.  Tim encourages me to write what God puts on my heart, and share my decorating techniques with others. We've discussed ideas at length, and I've even come up with a couple of names for a couple of businesses. He believes in me, and I'm pretty sure he's ready for me to begin what we call "my fun account". Between him and our youngest son, Cole, my "fun-account" is blown. I…just don't know. (Thank you, Tim! I love you!!)
When we are in seasons like this (and always) God desires for us to seek Him.
This morning I was soaking Him up with a glass of sweet tea, the birds chirping and fluttering to and from the branches, a hint of fall in the air, and my bible wide open.
He led me to some verses regarding "my purpose", and my heart would overflow with comfort, peace, and encouragement. Here, see for yourself:
But I have put you here for a reason. I have put you here so that I could show you My power. Then people all over the world will learn about Me!Exodus 9:16
Many are the plans in a person's heart, but it is the Lord's purpose that prevails. Proverbs 19:21
We know that in everything God works for the good of those who love Him. These are the people God chose, because that was His plan.Romans 8:28
So I run with purpose in every step. 1 Corinthians 9:26a
For God is working in you, giving you the desire and the power to do what pleases Him.  Philippians 2:13
Hold firmly to the word of life; Philippians 2:16a
­Oh, joy! Yes, just as for me, our Heavenly Father has a plan for you! We are here for a reason! I do desire for His power to flow through me so that I can share His love with others! Yes, we can sit around and make glorious plans for our lives, but in the end, when we seek His will for our lives, and desire for His plans to be our focus, the purpose that God has for our lives will prevail! I am confident that all things will work for the good, because I LOVE Him with all my being. I will walk through life with a purpose. I do…I do want to please Him! It's just…I'm in waiting…I'm trying to be still and know (I'm just ready for the reveal). I feel much like those birds that were flying from branch to branch, but they probably had a plan for their fluttering around. HaHa.
As I sit here typing, with my jar of M&Ms (no judging), my heart is full of hope and peace, knowing that God is in control and has fabulous plans for my life. Whether they include any of my concocted ideas or not, I am convinced that my season of "I Don't Know" is only temporary.
He has great plans for you as well.
Be still.
Seek Him.
Rest in His presence.
Believe, love, and trust in God with all your heart, soul, mind, and strength.
Be confident that when "you don't know", HE DOES.
Blessings to you and yours,
Stephanie
Lately, I think my energy level is Janus-faced. I'm beaming with liveliness one minute, then exhausted and needing a power-nap the next.
I believe I resolved today's levels of bi-polar energy: When I read scripture, my heart was giddy and the feeling of conquering the world (or maybe just the day) washed over me. "Bring on the day!" Then, an hour later, my body became sluggish. Hmmmm, could it have been the excessively large chocolate chip cookie that my husband brought home the night before? Hmmmm.
Bible vs. Cookie…bible was energizing…colossal cookie, night-night.
I feel like we just had a "squirrel moment"…Random thoughts with Stephanie. LOL!
Well, can I just share with you the scripture that made me giddy today? Great! Thanks. It is one of my favorite verses, "Take delight in the Lord, and He will give you the desires of your heart." Psalm 37:4 (Click here).
What is your heart's desire?
Praying that my children's desire will be to put first God in all they do and to please Him is part of my daily prayer life. Yea, yea, yea, we all have passions or dreams we pursue to find happiness and fulfillment in life, BUT…when you seek God's will for your life and really want to put a smile on God's face, you discover that HE IS what you desire, and you'll discover that He can and will fill you with an abundance of joy. Delight in Him.
Here, take a look at the verse that follows verse 4 (it's a great one too): "Commit everything you do to the Lord. Trust Him, and He will help you." Psalm 37:5. It doesn't state to commit part-of-what-you-do to the Lord. Give Him your ALL. He is available 24/7, and desires to guide you through life. Trust Him. He's got your back.
Don't let these verses leave you feeling depleted. Allow them to give you energy, joy, and hope for a new day!
Tackle your day with God.
Blessings to you and yours,
Stephanie
Wait patiently for the Lord. Be brave and courageous. Yes, wait patiently for the Lord. Psalm 27:14
When I read this morning's scripture, I smiled, even giggled, and said, "Yes, Lord."
I give situations to the Lord, often keep praying over-and-over for His will to be done, only to keep wondering…" Well, when will You respond, Lord?" Do you ever do that too?
A current circumstance I'm fervently praying for now almost seems like a multiple-choice test, when there are multiple responses to the question. One answer is correct, yet there are other factors which make the correct answers A, C, and E all the responses for full credit. God may have answered A and C, but it is not time yet for E to be marked. Ugh!
In the meantime, wait. Be brave. Be courageous. Live. Love. Laugh. Be an encourager. Remember…GOD'S GOT THIS.
Smile. Have a wonderful Wednesday.
Many blessings to you and yours,
Stephanie
I'm not even sure what to write at this time. My thoughts, over the past couple of weeks, seem too deep and transparent for them to be penned on a page. Yet, in this time of quietness, I feel compelled to urge you to pray.
C.H. Spurgeon once said, "True prayer is measured by weight, not by length. A single groan before God may have more fulness of prayer in it then a fine oration of great length." The weight of my heart is heavy. It is heavy for self, family, friends, and our country.
I was grateful for Romans 8:26 last night, "In the same way, the Spirit helps us in our weakness. We do not know what we ought to pray for, but the Spirit himself intercedes for us through wordless groans." There are those times you just have to say, "God, it's (you fill in your own blank) Yours. I don't even know what and how to pray right now. Take this and mold it and me how You desire."
Spurgeon also stated, "Prayer can never be in excess."
Do you ever feel that you are conversing with God ALL DAY? I have been, do, and I'm not planning on stopping. Prayer is what often gets me through various situations in life.
When you pray for God's will to be done, mean it. Don't pray it, and then think, "Oh, that's not right, I can do it better." Believe it. Pray it. Wait.
Ugh, that's the tough part. The waiting. Yet in the waiting, that is when we are truly relying on God. Faith in action. Lessons are being taught in those moments. Just breathe. (I actually exhaled deeply then. I think I'm reminding myself of this too.)
To quote another famous person, Mother Theresa spoke these beautiful words, "God speaks in the silence of the heart. Listening is the beginning of prayer." Listen, my friend, to God's voice.
Here's a prayer to get your started in your prayer life with God today:
Show me Your ways, Lord, teach me Your paths. Guide me in Your truth and teach me, for You are God my Savior, and my hope is in You all day long. Psalm 25:4-5
Can I get a hearty, or even a sweet sigh of, "Amen"?
Take a slow deep breath, imagine yourself at the feet of Jesus, either look directly into His eyes or bow to His feet, and repeat Psalm 25:4-5. Believe in Him. God will show, teach, and guide you all day, when you place your hope and trust in Him.
Have a beautiful day!
Many blessing to you and yours.
Much love,
Stephanie
On the way to taking Cole to school, the sky was stunning, just absolutely stunning. The drive was peaceful, and then…it happened.
This past weekend, and this morning, you would think that our small town is having a massive festival or concert. The interstate, and three main roads, no…make that four, have been at a slow crawl or dead-stop the past several days. The Strawberry Festival doesn't even cause this much traffic complications. What's the problem? FEMA.
FEMA has set-up headquarters in Plant City for ALL of Hillsborough County assistance for the victims needing food services since the hurricane.
On social media and in conversations, you can definitely sense the frustration in people's words.
Businesses are losing profits because people are not able to reach them. Employees are being late to work. What would normally take someone ten minutes to reach their destination, it is now taking over one hour.
This morning, I took my son to the high school and headed to our Publix grocery store around 7:30. Traffic was already being gridlocked. I heard that those needing assistance, have been in line since 3:30 this morning. Wow!!
So, I thought to myself…I have a choice to make. I can either get frustrated and judgmental and critical, OR do something. The latter was my preference.
I pondered to myself, "This could be an opportunity for churches or groups to pass out comforting notes of scripture, or mints, or water or something." Then, I wasn't sure of the legal ramifications to the whole concept.
My mind began to think about: how fortunate our town was through the hurricane, praying for those who were affected, grateful that our town to open up its roads to assist others, and so on.
Choosing to do something was the much better alternative for my psyche, and my blood pressure.
First of all, I ask that you pray for all people. Ask God to bless them and give them what they need. And give thanks. 1 Timothy 2:1
I chose to pray. Pray for the town, the people waiting in line, their families, for the local businesses who are suffering to be blessed in the coming days, for local folks to just breathe and know that we only have ONE MORE DAY of this discombobulation which is causing disruption to people's routines. But…we need to count our blessings that we have a solid home, food, water, and good health.
Pray in the Spirit at all times. Pray with all kinds of prayers, and ask for everything you need. To do this you must always be ready. Never give up. Always pray for all of God's people. Ephesians 6:18
Blessings to you and yours. And count those blessings (*wink*smile).
Love, Stephanie