Okay, when I mow our property I am on the mower for a good three hours. So…thoughts run rampant, devotionals come to mind, and worship music is blasting. Good stuff!
Here's some music for you to enjoy. There are a variety of styles here, but the message in each is perfect for all. Some music you may already love and some may be new. Enjoy! You just may find a new favorite and share it! 
Charity Gayle – I Speak Jesus (feat. Steven Musso) 
Cody Carnes – Firm Foundation (He Won't) 
Red Rocks Worship – Good Plans
for KING + COUNTRY – WHAT ARE WE WAITING FOR?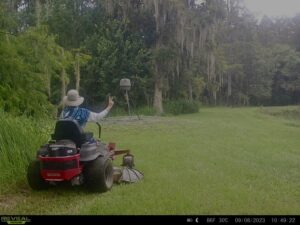 Whew! I have tons more when you're ready!
And, yes…I had to pose for the game camera.
Okay, seriously, did you giggle when you saw my mowing selfie? GOOD!  Laughter is good for the soul.
Blessings to you and your,
Stephanie