When you see a penny on the ground, or any coin really, do you look to see which side is up before you pick it up? Or, do you say, "Find a penny, pick it up. All day long you'll have good luck."? Well, I used to, but my actions and thoughts changed the older I became.
I wonder how much money I passed up over the years all because of a superstitious saying.
On every coin you'll find the words "IN GOD WE TRUST". These words first appeared on a coin in 1864. 
It is better to trust in the Lord, than to put confidence in man.  Psalm 118:8
When I see a coin on the ground, I'm like a giddy kid, pick it up, and say the words "In God I trust".
Just within the past week, there have been three instances when coins were discovered. First, my husband, daughter, and I were walking into the Tampa Bay Lightning hockey game. Before I walked through the metal detector, I glanced down to discover not just one penny, but about five coins of various values. Holly chuckled at me when she saw the delight on my face as I procured those lost coins. Once I had them all in hand, I announced "In God we trust" with a smile on my face. 
Two days later, I was walking into the store to purchase some candy to give to the students for the Great American Teach-In. (Get this… a PUBLIC school! Y'all, I got to share my CHRISTIAN children's book to six classrooms! Glory!) Anyhow…while crossing the parking lot, something caught my eye on the ground. That something wasn't a penny. It was a dime. I said those imprinted words, yet added, "tenfold". Although my trust in the Lord is greater than that, it seemed appropriate.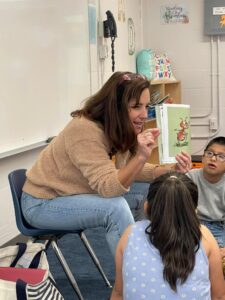 God wasn't finished yet showing me the reminder to trust in Him. On Saturday, while stepping out of my vehicle, I glanced at the ground and discovered a dirty old penny. It didn't matter if it was on heads or tails, I giddily picked it up and said, "In God I trust".
As delighted as I was to have found all those coins this past week, God delights so much more in you when you have come to Him after being lost.
In Jesus' day, women usually received ten coins as a wedding present. Each coin meant something very special as well as had great value, so the loss of even one would be devastating. The woman would have seriously felt the loss and would have been willing to go to do anything to find her coin. 
Wednesday evening, I shared the story of the lost coin from Luke 15:8-10. It is a parable that Jesus told the Pharisees and teachers of religious law who were complaining that He was associating with sinful people. 
"Suppose a woman has ten silver coins and loses one. Won't she light a lamp and sweep the entire house and search carefully until she finds it?  And when she finds it, she will call in her friends and neighbors and say, 'Rejoice with me because I have found my lost coin.'  In the same way, there is joy in the presence of God's angels when even one sinner repents."
This story is not only to remind us that the Lord grieves over those, even one, who do not have a relationship with Him, and rejoices when they repent and turn to Him, but to be thankful. The woman was so thankful and filled with delight when she found the coin.
 The Son of Man came to find lost people and save them. Luke 19:10
Much like I say those imprinted words when I discover a coin on the ground, will you put your trust in God?
Trust in the Lord with all your heart; do not depend on your own understanding. Seek His will in all you do, and He will show you which path to take. Proverbs 3:5-6
I hope that the next time you find a lost coin(s) on the ground, you will joyfully pick it up and smile at God's reminder to trust in Him. If you do not have a personal relationship with Jesus Christ, I want to encourage you to reach out to a bible-believing pastor or friend, or even me, and get found in Christ. This will make God giddy.
Blessings to you and yours,
Stephanie
Enjoy another journal entry regarding a found penny:  WHAT'S THE VALUE? | Soaking up the Son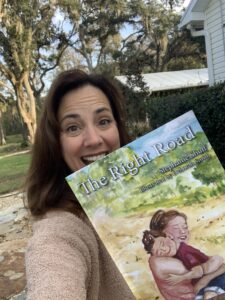 Click here to purchase The Right Road. It will make a great stocking stuffer for Christmas, or a baby/wedding/grad/just-because gift. Thank you!!! And…would you please go on Amazon and leave a review? Much appreciated.