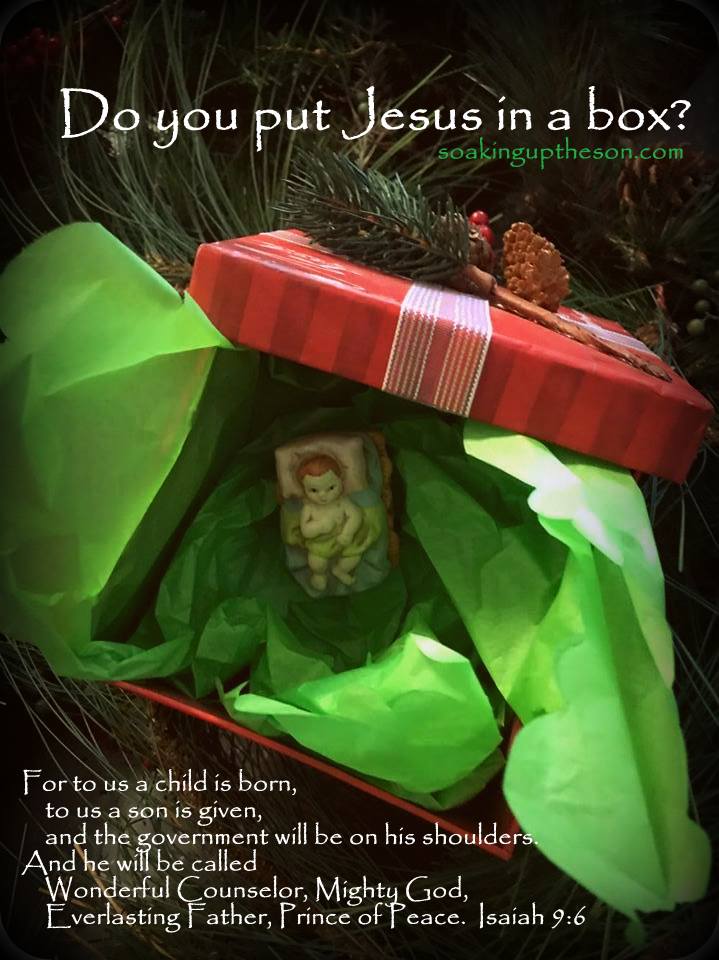 I waited!
It took will power and patience to hold down the excitement, but I did it, and the time is FINALLY here!
For months, while gallivanting through stores, Christmas was in the air…or at least on the shelves. When did Christmas decorations become the items to purchase as early as September? Seriously!
Seeing the beautiful decorations would get me giddy, then I would have a perplexed look and think, "Wait, it's not even Halloween…or Thanksgiving."
Recently, I saw someone post a slogan that said, "No, No, No, to Ho Ho Ho". I had to laugh and agree with the catchy phrase.
Oh, believe me, I was ready! I LOVE Christmas time and all that it entails. The week of Thanksgiving, the anticipation was building within me. My mind would curiously ponder, "What decorations do I even have?"
You see, last year I was totally out of it, thanks to loopy medication due to a broken tibia, fibula, and dislocated ankle, and surgery to give me a steel plate and six sturdy screws. So, my curious mind had complete reason to ponder, since I wasn't even the one displaying Christmas in my home last year. Thanks to a lifelong family friend, whom was my late mother-in-law's bestie, and talented to boot, Mrs. Karen decorated my tree last year.
Also, since we had just moved into our new and renovated home, I had eliminated the amount of décor from our previous home. This year, I had no awareness as to what décor has been lingering in the attic since the move.
A few days before Thanksgiving, my guys helped me bring all the Christmas storage boxes down from the attic. Don't worry, I remained patient and strong and had them put everything in the garage for me to unveil. No Christmas décor manifested the walls or doors or shelves inside my home until Thanksgiving was officially over. (Not that there's anything wrong with it.) It was difficult and tempting, but I was determined to stick to the "No, No, No, to Ho Ho Ho" policy until we gobbled down our turkey and stuffing.
That's when I saw Jesus in a box.
I love nativity scenes! That's what…He is…Christmas is all about anyhow.
Each year that I open a nativity box, I contemplate how many times I'VE (and STILL do) put Jesus in a box.
Natalie Grant beautifully sings her song, King of the World. The very first verse has a phrase which often gets me to the core. The words, and her voice, are graceful and powerful. Read for yourself:
I tried to fit you in the walls inside my mind I
try to keep you safely in between the lines
I try to put you in the box that I've designed
I try to pull you down so we are eye to eye
When did I forget that you've always been the king of the world?
I try to take life back right out of the hands of the king of the world
How could I make you so small
When you're the one who holds it all
When did I forget that you've always been the king of the world
(Click here to view Natalie sing "King of the World" in this breathtaking official acoustic video.)
I want to challenge you:
Are you what some may call a "Holiday Christian/Churchgoer"? Why just fellowship with other Christians and receive the teaching of His word just a few times a year? Make a commitment to attend church regularly. Grow closer to Christ with others.
Are you like me and have your own ping pong match with God when it comes to giving Him complete control of EVERY situation in life? Let's remember…He IS the King of the world. Don't do as the lyrics say and try to pull Him down so we are eye to eye with God. He isn't minor, He is majorly mighty!
As you take baby Jesus out of the box this Christmas season, take Him out of the box in your mind and allow Him to freely be the Boss of your life.
Happy Christmas decorating!
Many blessings and much love to you and yours,
Stephanie